Everything you need to increase the power and performance of RZR XP 1000 all in one kit from Trinity Racing
High Quality Exhuast Made from 304 Stainless Steel in 3 Variations
brushed
Black
CeraKote Black
Exhaust Features:
Newly Designed Stage 5 System
304 brushed stainless steel mid & head pipes

 

Dual aluminum mufflers black coated
Fully Tig Welded
6061 Billet Muffler Clamps

 

6061 Billet Machined Exhaust Tips
Oxygen sensor bung
USFS approved spark arrestors
Significant horsepower and torque gains
2 year warranty
Made in the USA
Tuner will unleash the max power and proper fuel and timing To unlock the true power of this exhaust system

The PowerVision Reflash Tuner Gives you The power of an ECU-Reflash in the palm of your hand
Available with a pre-loaded map for use with Stage 5 exhaust systems exclusively from Trinity Racing
Flash performance tunes via OEM diagnostic connector, No need to remove and send out ECU
Tuner Features:

Adjust rev limit
Adjust speed governor
Raises limp mode to 7000rpm
Adjust drive by wire
Adjust cooling fans engagement temperature
Unit holds multiple tunes so you can change tunes without a computer
Display vehicle data channels in real-time
Weather resistant for use in all conditions
High contrast display, viewable in direct sunlight
Note:  Once tuner is paired with vehicle it is no longer returnable if returned with a paired vehicle a $200 fee deducted from the refund / the cost to have dyno jet reflash the tuner to make it usable for another machine
FITS:
2014-2021 RZR XP 1000
DOES NOT FIT PRO XP MODELS
Customer Reviews
28/06/2021
Rick S.

United States
Very well put together system packaged really good
With this I also got the Dynojet ECU programmer. It already had the Trinity full race exhaust programmed into it but the only problem is it did not have aftermarket intake programmed into it which I have. So now it looks like I'll have to get online and pay for this program so I can get more out of my Razor. Other than that it runs about 7 miles an hour faster in low end in about 5 miles an hour faster in a high gear. I do love this product and I recommend it to anybody that wants instant horsepower and torque it's an easy bolt on system
15/11/2020
Ryan M.

United States
Great exhaust but no t-shirt
I love it. Well worth the money, but I never received my t-shirt with the order.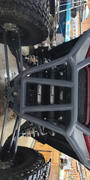 31/10/2020
Josh C.

United States
It was the best price out there
It was good great people to talk when. I had a question and no problems when I needed some answers. Thanks yall